Binghamton University currently sponsors over 50 education abroad and exchange programs in wide variety of locations and sites - and new programs are constantly being developed. In addition, Binghamton students have access to nearly 1,000 education abroad programs sponsored by SUNY institutions, and even have the option of looking at programs outside the SUNY system. There are programs in every field, on every continent, so start exploring your options! Whatever your goals for education abroad, there is a program right for you and our office is here to help you through the process, from choosing a program to returning to Binghamton after your experience abroad.
Fall Education Abroad Fair
Join us on Thursday, October 3, 2:00pm to 5:00pm in the Old Union Hall!




Want to stay closer to home? Check out the opportunities through the National Student Exchange.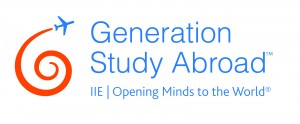 Binghamton University is a proud member institution of IIE's
Generation Study Abroad
which aims to
increase the number of U.S. students who study abroad.

Students who have previously been convicted of a felony are advised that this may impede your ability to study abroad or participate in an internship. Students who have concerns about such matters are advised to contact staff with the Office of International Education and Global Initiatives.
The Education Abroad Withdrawal Policy is guided by both the SUNY tuition liability schedule and the campus policy for broad based fee liability. Financial liability for Education Abroad programs begins to accrue on the first day of classes on campus at Binghamton University for the term the student is studying abroad.

Education Abroad Program Fees paid for by Binghamton University, on behalf of a student, prior to the Education Abroad start date are the full financial responsibility of the student, regardless of when the student withdraws from the program. Questions about withdrawing from an Education Abroad Program should be directed to iegi@binghamton.edu.