Education Abroad Ambassadors Program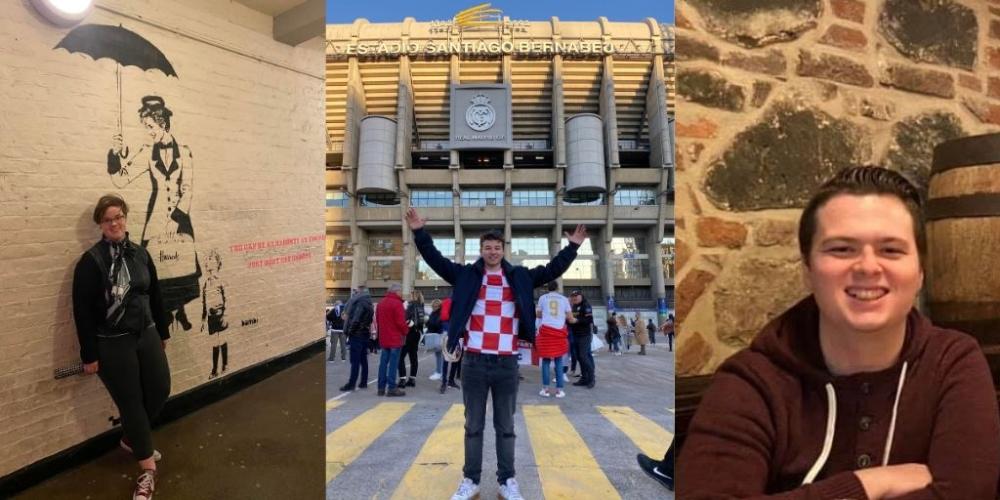 ---
The Education Abroad Ambassadors are a cohort of highly enthusiastic student volunteers with a shared passion for education abroad. Scroll to learn more about the program and to meet the team.
Program Benefits:
The opportunity to help others

Professional development experience and resume boost

Supervisor reference (based on performance)

Holistic reflection on your time abroad and insight into education abroad processes

Education Abroad Ambassador shirt

Add service hours to your volunteer transcript
Program Commitment:
One academic year

One mandatory training session

One meeting per month

Average three hours per week for advising

Participation in University events as requested (University Fest, Homecoming, etc.)
Program Eligibility:
Binghamton University undergraduate or graduate student

Successful participation in an education abroad program (including summer, winter, and spring break) for which Binghamton recognizes credit

Evening and weekend availability for University events (not every weekend and with notice)
Program Objectives:
Annotated Program Objectives
Professionalism and Public Speaking

Communication and Accountability

Teamwork

Reflection
Program Responsibilities:
(Responsibilities may vary based on Office needs and cohort size)
Be familiar with general IEGI resources, guidelines, and deadlines

Guide students in selecting and applying for programs that match their personal goals for education abroad

Maintain confidentiality regarding student records and information

Communicate with IEGI staff with questions or issues that arise during the advising experience

Complete projects in any down time during advising hours as tasked by IEGI staff

Assist at least one hour at the Education Abroad Fair each semester

Promote education abroad through word of mouth, social media, and other outreach

Submit photos and information for Binghamton Abroad website and media

Respond to student inquiries received via email and during advising

Organize with student groups to create, advertise, and implement at least one education abroad program

Identify new opportunities for promoting education abroad on campus
Questions?
Please email any Ambassador related questions to eaambassador@binghamton.edu.
---
Meet the 2021-2022 Education Abroad Ambassadors