National and External Scholarships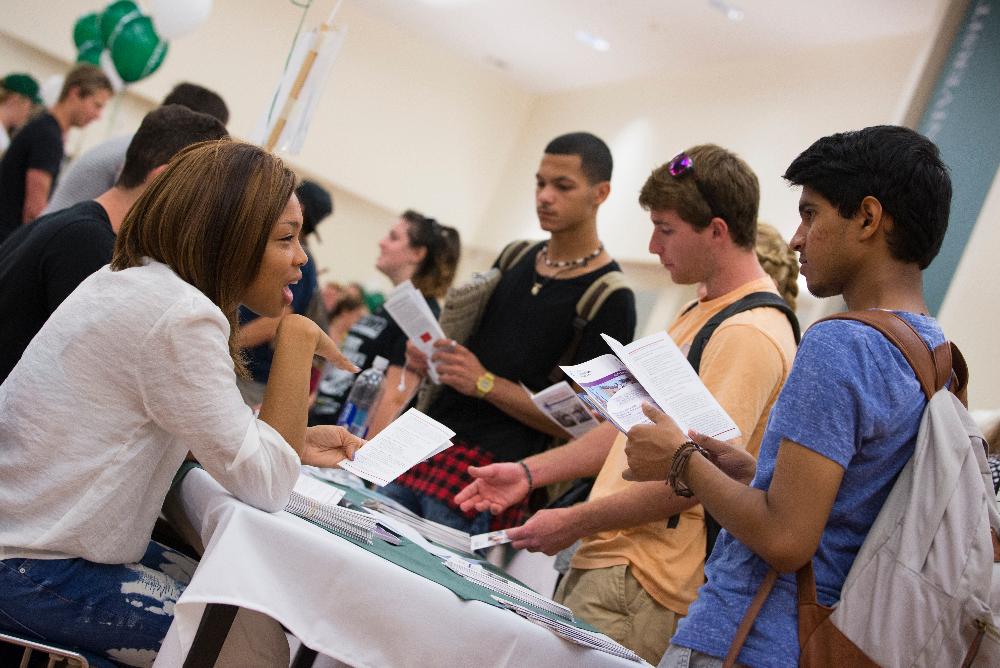 National Scholarships for Study Abroad
There are a large number of funding opportunities provided by institutions and endowments outside of Binghamton University, and we encourage students to apply for any opportunities for which they qualify. The ones listed below are programs for which Binghamton students have typically been very successful with obtaining funding, and advising is provided within our office.
These scholarships also require verification from our office and/or other campus offices; please review the scholarship deadlines and contact the scholarship advisor for the Office of International Education and Global Initiatives at iegi@binghamton.edu to schedule an advising appointment at least one month before the posted deadlines. *Boren applicants should schedule a
December
appointment.
Benjamin A. Gilman International Scholarship
The Gilman Scholarship supports U.S. citizens enrolled as an undergraduate and receiving a Pell Grant in their financial aid package. The award guidelines are intended to assist students with high financial need who traditionally have been underrepresented in education abroad (for example: underrepresented fields such as the sciences and engineering; students with diverse ethnic backgrounds: and students of nontraditional age). Semester and summer awards may be up to $5,000; and additional $3000 may be granted for applicants pursuing studies in critical need languages. Programs must be at least 21 days not including travel dates. There are two application cycles per year, and the application deadline depends on when one plans to study abroad. Certification is required from the Office of International Education and Global Initiatives and the Financial Aid office. For application information and tips, please click HERE.

Deadlines: (Please read the bolded text above!!!)
Program start date between December 2019 and October 2020- 1st Tuesday of October
Program start date between May 2020 and April 2021- 1st Tuesday of March
Gilman-McCain Scholarship​
The Gilman-McCain Scholarship provides awards of $5,000 for child dependents of active duty service members to study or intern abroad on credit-bearing programs. The scholarship supports U.S. citizens enrolled as an undergraduate and receiving ANY TYPE of Title IV federal financial aid.

Deadlines:
Program start date between December 2019 and October 2020- 1st Tuesday of October
Program start date between May 2020 and April 2021- 1st Tuesday of March
Boren Awards
The Boren Scholarship is very competitive national program available to undergraduate U.S. citizens. Applicants should plan to participate in a language-intensive program in a location that is considered relevant to current U.S. national security interests; programs in Canada, Western Europe, Australia and New Zealand are ineligible. A full list of eligible countries and languages are on the scholarship's website. Recipients are expected to begin a minimum of one year in a government position relevant to National Security within 2 years of graduation. Semester awards may be up to $10,000. Academic year awards may be up to $20,000. Summer STEM program recipients may receive up to $8000. There is one application deadline per year, early in the spring semester. Due to the intensity of the application process, it is recommended that applicants meet with the IEGI scholarship advisor no later than December. The Binghamton University internal deadline for the scholarship is typically two weeks prior to the Boren deadline to ensure appropriate processing time. For more information on the Boren Scholarship, please click HERE.

Campus Deadline: January 17, 2020
Boren Fellowships Deadline: January 29, 2020
Boren Scholarships Deadline: February 5, 2020
Freeman-ASIA Scholarship
Freeman-ASIA (Freeman Awards for Study in Asia) is designed to support undergraduates with demonstrated financial need who are planning to study overseas in East or Southeast Asia. The program's goal is to increase the number of
U.S. citizens and permanent residents
with first-hand exposure to and understanding of Asia and its peoples and cultures. Award recipients are required to share their experiences with their home campuses or communities to encourage education abroad by others and fulfill the program's goal of increasing understanding of Asia in the United States. For more information, please visit the Freeman-ASIA Scholarship website.

Deadline:
All applications for Academic Year 2020-2021 will open in early 2020. This will include applications for: Summer 2020, Fall 2020, Spring 2021, and Academic Year 2020-2021.
Other Scholarships
We encourage you to make use of the database created by the Binghamton University External Scholarships and Undergraduate Research Center to search specifically for education abroad scholarships.

Below you will find a list of websites/web pages where you can research additional scholarship opportunities. Please note: These scholarships are not administered by or associated with Binghamton University.
Bridging Scholarship
(Deadline for Spring 2020 programs - 10/10/19)
Diversity Abroad
Fund for Education Abroad
(Deadline for Spring 2020 programs - 9/10/19)
GoAbroad.com
GoOverseas.com
International Student
travel video contest (Deadline October 15, 2019)
National Association of Italian American Women (2020 application not yet open - 2019 Deadline 3/8)
Studyabroad.com
Toshizo Watanabe Study Abroad Scholarship (2020 application not yet open - 2019 Deadline 2/17)